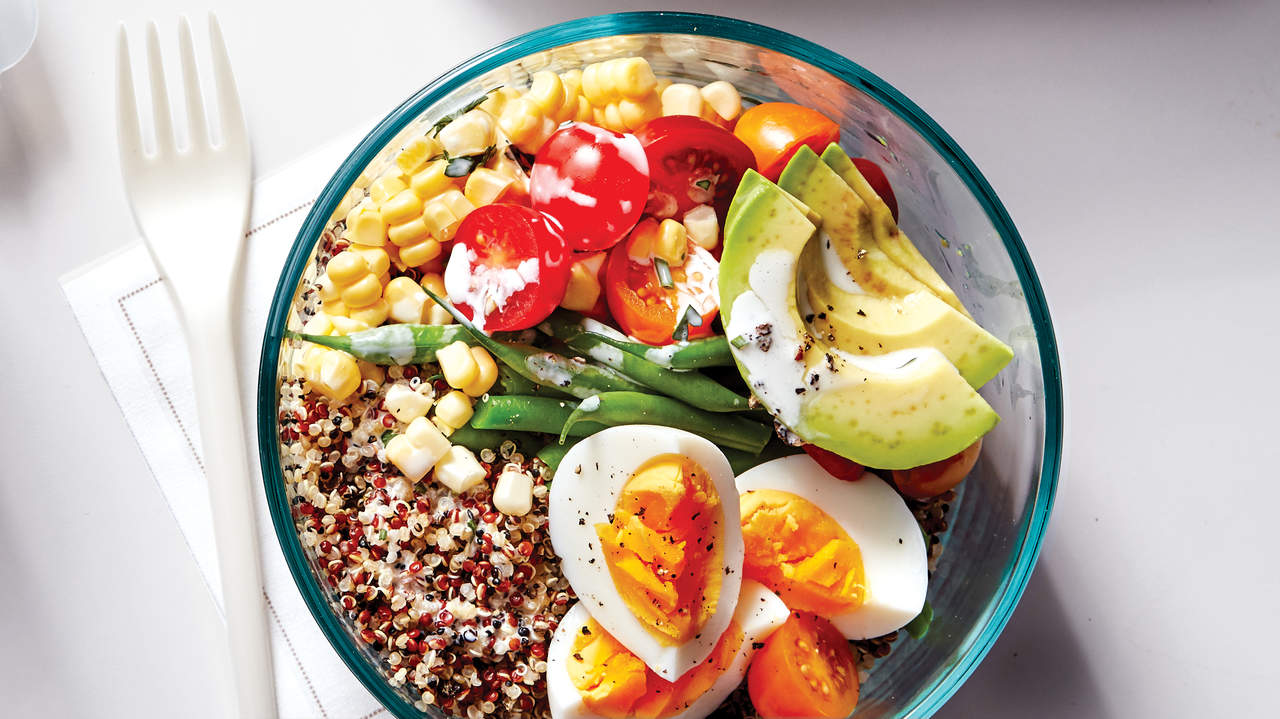 We all have those really busy days when finding the time to make healthy lunches can be a challenge. 
Sticking to your health goals can seem harder when you're feeling time-poor, but there are lots of options when it comes to easy healthy lunch ideas for work — it's just about making time for meal prep so you're all set for those busy days! 
So if you want to create better lunch habits for the times when work is keeping you busy, these are some awesome healthy lunch recipes. 
 Greek Pita Sandwich
You can meal prep the ingredients for this Greek Pita Sandwich ahead of time, so when it comes to lunch, it only takes a few minutes to put together. 
It might seem like a really simple recipe, but trust me, it's BIG on taste!
 Healthy Quinoa Salad
Quinoa is a pantry essential. I love it because it's an easy ingredient to use for meal prep, as it goes really well in lots of different meals and snacks. 
It's also a source of amino acids, so it's full of goodness too! 
This Healthy Quinoa Salad is also great base. You can mix it up — try adding salmon or shredded roast chicken to keep it interesting!
Healthy Laksa with Chicken Meatballs
A big bowl of soup for lunch can be SO satisfying! This delicious Laksa with Chicken Meatballs is also full of vegetables and spicy flavor. 
You can meal prep this soup in big batches so it's ready for those days when you're flat out.
 Salad Sandwich with Beetroot Hummus
Packing your lunch with veggies is an easy way to keep it healthy. 
This Salad Sandwich recipe is simple to make but it's filling and full of fresh, crunchy salad, and the beetroot hummus is easy to make. It can be used in quick dinner recipes too. 
Once you've tried this sandwich, it will become a lunchtime favourite!
 Healthy Chickpea Salad
This is definitely one of those meals you can make for dinner and then take the leftovers into work the next day.
Chickpeas — also known as garbanzo beans — are a great source of protein, which is essential for building muscle and will help you feel fuller for longer. 
Summer Rice Paper Rolls
These Summer Rice Paper Rolls are full of colourful, crunchy ingredients, but most importantly, they're SO yummy.
They're really quick and easy to make, and the dipping sauce is amazing! 
This recipe is also vegetarian, so it's a great way to get another serve of veggies into your diet.
Greek-Style Lentil Soup
This Lentil Soup is a great recipe for making in big batches on those meal prep days, so it's ready for lunch when you're feeling time-poor.
Lentils are full of fibre and protein, so this recipe is really good for you as well as tasting great! 
 Soba Noodle Salad
This lunch proves salads aren't boring! 
Soba noodles are made from buckwheat, so they're full of fibre and nutrients, and they taste amazing too.
There are so many great flavours in this Soba Noodle Salad recipe, but you can always add different ingredients too — try grilled fish or shredded roast chicken.
Broccoli & Kale Green Soup
If you love greens, this healthy lunch idea is for you! And if you're not a fan already, this soup will convince you how tasty greens can be.
The spices in this Broccoli and Kale Soup make it SO delicious, but it's also full of nutrients that will give you a health boost.
This is also a recipe you can meal prep in big batches so it's ready for those busy days.
This article was originally published here
Having trouble losing weight and feeling healthy again?
Click the button below to learn more about all the health and wellness services Optimal Fitness has to offer. Let us help you become fit and happy.