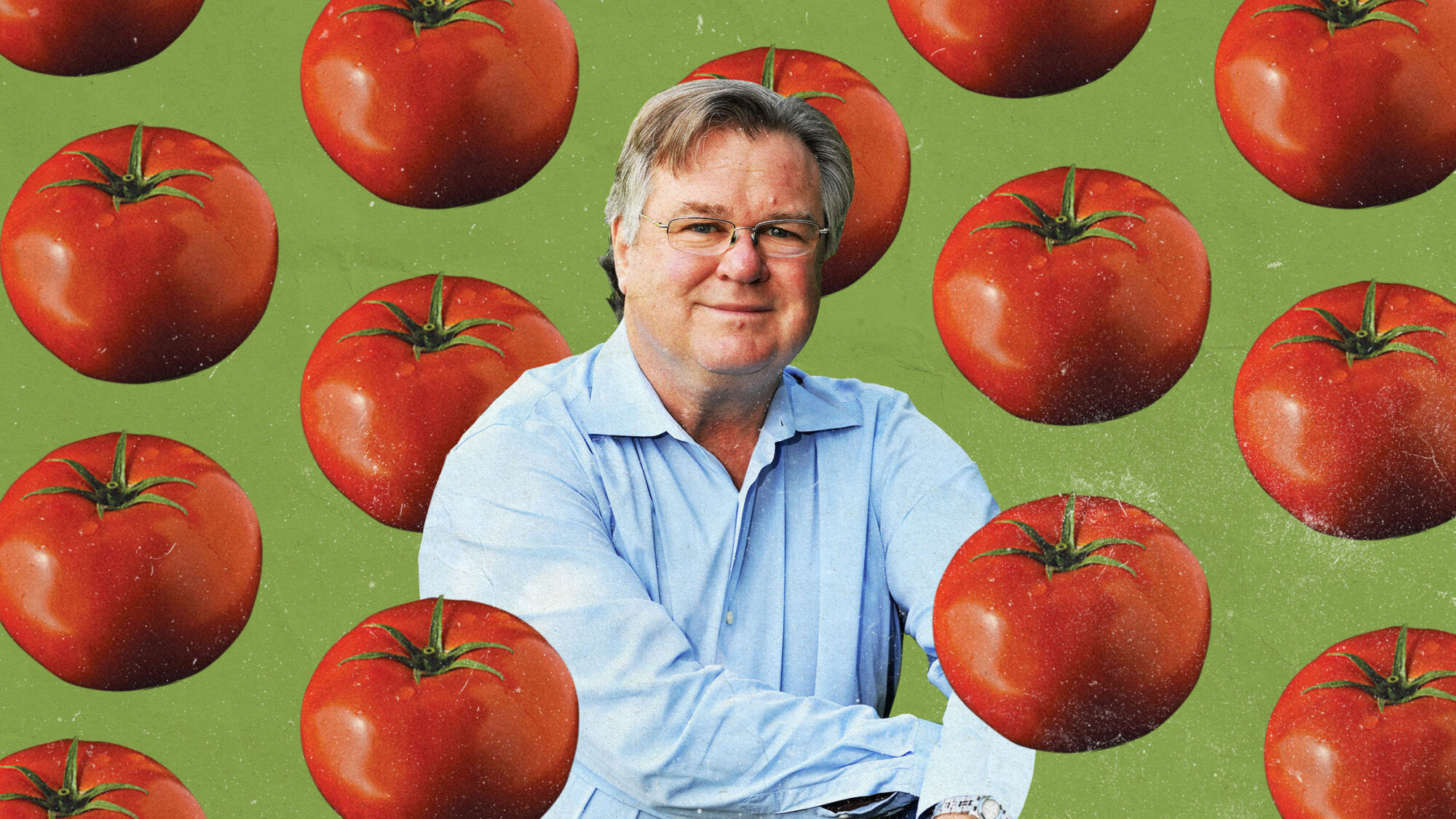 The $70 billion diet industry suffers many fools, including journalist Barry Estabrook, who found himself approaching the age of 60 with the alarming doctor's orders that he needed to lose 40 pounds. "I went on the Whole30 for precisely the wrong reason," he says of the popular diet that eliminates "psychologically unhealthy, hormone-unbalanced, gut-disrupting, inflammatory food groups" (read: no sugar, grains, dairy, alcohol, or most legumes). "I suffered for a month, lost some weight, and promptly gained back every ounce, so I said to myself that there had to be a better way—and realized at about the same time that I should heed my own advice and thoroughly understand what I was eating," he says. 
The result is the deeply reported, page-turning Just Eat: Estabrook's first-person account of road testing the world's most popular diets, including paleo, the Master Cleanse, South Beach, WW (formerly Weight Watchers), and the Mediterranean diet. Estabrook is behind deep dives into agriculture practices and policy, including the best-selling Tomatoland, which looked at the human and environmental costs of tomato growing in America. 
Just Eat follows this reporting process, but with some small twists and snark that recalls more the work of Bill Buford than of Michael Pollan. Entering a no-spoiler zone, the book concludes that most diets are kinda bullshit, while unpacking the author's own hang-ups with food—from the perspective of an on-the-clock "food professional." Jacques Pépin makes an appearance, and some calm is restored. It's a riveting read, and, as Estabrook says in this interview, eating is a personal thing—and far from prescriptive. —Matt Rodbard
Let's start with where you began—40 pounds overweight and facing some tough lab results (high cholesterol, even when meds were maxed out). How did you get to this place? Describe your diet.
Frankly, it didn't seem fair. I'd always eaten whole foods and avoided processed stuff. I'm blessed with whatever the opposite of a sweet tooth is called, so I rarely have desserts, candy, or sugary drinks. In retrospect, it wouldn't have hurt to cut back on my red meat consumption. Those 40 pounds come on insidiously at an average rate of about a pound a year. But until those lab results came back, I really didn't worry about my weight. It didn't affect my professional or romantic life. I was physically strong and active—cross-country skiing, bicycling, hiking, canoeing.
You wrote books about industrial agriculture and the modern meat industry. Should you have known better than to get yourself in that spot of being 40 pounds overweight, or was the root of your weight gain something that was unavailable for even the most informed eater?
Damn right I should have known better. I mean, I was one of those people who wouldn't eat farmed salmon, store-bought ground beef, or Florida tomatoes because of environmental and political issues. I was even a past editor of EatingWell magazine, which is all about healthful food. I simply ignored the link between my eating and drinking habits and my expanding waistline. It was only after I applied the same journalistic techniques I used in other areas to the whole diet and weight loss phenomenon that I figured out how to drop those unwanted pounds.
When did you decide that road testing diets would be your next book, and did you expect you'd write something so immersive?
I decided to investigate the diet industry just as I had investigated industrial agriculture, and it dawned on me that there might be a book there. I joked that if you have to lose weight, you might as well find some nice publisher who is willing to pay you to do it.
What was the worst diet you tried?
I foolishly tried to do the Master Cleanse. You consume nothing more than maple-syrup-sweetened lemon juice with a little added cayenne pepper and sip a laxative tea. But, hey, Beyoncé used it to lose weight for a film role, so who was I to argue? I felt like I was starving, became dizzy, and eventually had to station myself within a few paces of the toilet. I gave up after four days.
Did you end up landing on a "best" diet (no spoilers!)? 
Sorry, there is no best diet. You have to begin by examining how and what you eat to discover the secret sources of your own extra calories. It's different for every person. Diets don't work because you're asked to follow someone else's idea of how to eat. Eating is extremely personal and individual.
How are you currently feeling—like right this very moment? What did you eat for breakfast, lunch, and dinner yesterday?
Like many, I'm currently trying to whittle away some extra holiday and pandemic weight, although I'm still 20 pounds lighter than when I started. As I like to say, I'm very much a work in progress, even though my blood pressure and cholesterol are back to where the doctor wants them to be. Yesterday, I had two sunny-side-up eggs (we keep a flock of hens) on a slice of whole wheat bread for breakfast, some dal reheated from a dinner a few days ago for lunch, and a hamburger, iceberg lettuce wedge with homemade blue cheese dressing, and Swiss chard sautéed with garlic for dinner. I should explain that, once every month or so, my wife and I have a "retro" dinner. To our credit, the burger was made out of very low-fat, grass-fed, hormone-free beef.
What are you working on now?
I'm working on a book with Sam Kass, former chef for the Obama family at the White House and head of Michelle's health and food initiatives.  
If you could write any cookbook (or food culture book) without budget or time restrictions, what would you dive into?
How to Cook So That You Live Vigorously to 150 and Then Die in Your Sleep.
4 RECOMMENDED READS FROM BARRY ESTABROOK
The Thrill of the Grill by Chris Schlesinger and John Willoughby
These guys taught me everything I needed to know to get started cooking over live fire. 
The Gourmet Cookbook by Ruth Reichl
I worked for a decade at Gourmet magazine. Reichl selects the best recipes from 75 years of the publication's history. A treasure, especially now that it is no longer published.
Classic Home Desserts by Richard Sax
"Home" is the operative word. No convoluted, cheffy recipes here—just delicious, straightforward desserts from household kitchens around the world.
Anything written by Dorie Greenspan
She combines a pitch-perfect palate with the ability to write clear, flawless, can't-fail recipes.
MORE BOOKS TO BUY, READ, AND COOK FROM:
Last week, we talked to Savannah restaurateurs John O. Morisano and Mashama Bailey, who set out to write a book. Instead, it started a conversation. The result: Black, White, and The Grey. 
The Vegan Stoner Cookbook crew is back with another round.
Read our interview with Deuki Hong, San Francisco chef and author of Koreatown: A Cookbook. And, while you are there, check out his recipe for what might be the absolute perfect February stew.
Last year, the Oakland chef and activist Bryant Terry released one of the most exciting vegetable cookbooks in years, Vegetable Kingdom. Read our interview.
American Tacos is an instant classic, and José R. Ralat writes the American taco history that you think you know. His writing style is so fun, too! Buy this book right now.
TASTE contributor Cathy Erway has brought the world 50 super creative recipes with Sheet Pan Chicken, one of our favorite books of the season (and one we helped publish, alongside our friends at Ten Speed Press). Recipes include Thai yellow curry chicken thighs, Nashville hot chicken breasts, and five-spice chicken wings. All on a sheet pan, baby.
Rodney Scott's World of BBQ is coming, and boy, is it an amazing book. Watch this space for more very soon.
This article was originally published here